Chatrium Hotel Riverside Bangkok
The Very Best 5 Star Luxury Hotel In Bangkok
Set on the East Bank of the mighty Chao Phraya River, Chatrium Hotel Riverside Bangkok offers the perfect escape in the heart of Bangkok for travellers looking for a 5-star hotel in Bangkok. This award winning hotel is designed with the needs of the discerning modern globetrotter in mind, our spacious and newly renovated rooms feature cutting edge technology and stunning views of the river or city. Guests also have access to versatile function spaces perfectly suited for corporate meetings or grand social functions. Foodie adventures await at our six restaurants and bars, while the infinity pool, Fitness Center, Chatrium Club Lounge and Nemita Spa will help you unwind to make your stay truly unforgettable.
Rooms & Suites
When creature comforts and languid luxury come together it makes for the ideal stay. Our Bangkok city hotel consists of 396 class-leading rooms and suites with stunning vistas of either the towering cityscape or mighty Chao Phraya River.
Offers
With an incomparable location and state-of-the-art facilities offering a haven in the middle of the bustling city, we make it all the easier for you to enjoy your stay. The Bangkok hotel special offers at Chatrium Hotel Riverside Bangkok are carefully tailored to suit your every need as well.
DINING
From fantastic fine dining beside the Chao Phraya River to irresistibly avant-garde drinks by the poolside, Chatrium Hotel Riverside Bangkok is where some of the best restaurants in Bangkok are to be found.
MEETINGS & EVENTS
Let us plan your corporate or social event down to the last detail
Chatrium put all our food handlers and service employees through ServSafe Food Handling Program
As the world begins to recover from Covid-19, Chatrium intends to stay ahead of the curve for our returning guests. Therefore, we are upping the ante on all our health and safety programs with the Chatrium Promise initiative.

Chatrium have evolved all our operations to foster social distancing guidelines for the 'new normal'. We also consulted a variety of expert firms and partners internationally and locally to ensure the new health and safety standards at all our properties are beyond the industry standard.

One such program that Chatrium have recently introduced as part of Chatrium Promise is the brand new Food Handling program by ServSafe, part of the accredited National Restaurant Association in America. The course covers 5 major components, including Basic Food Safety, Personal Hygiene, Cross-contamination & Allergens, Time & Temperature, and Cleaning & Sanitation, with an assessment to certify our staff.

Until now, over 250 Chatrium employees have passed through the program. Our goal is to have all relevant staff certified to ensure our guests can confidently choose Chatrium as their preferred hotel of choice.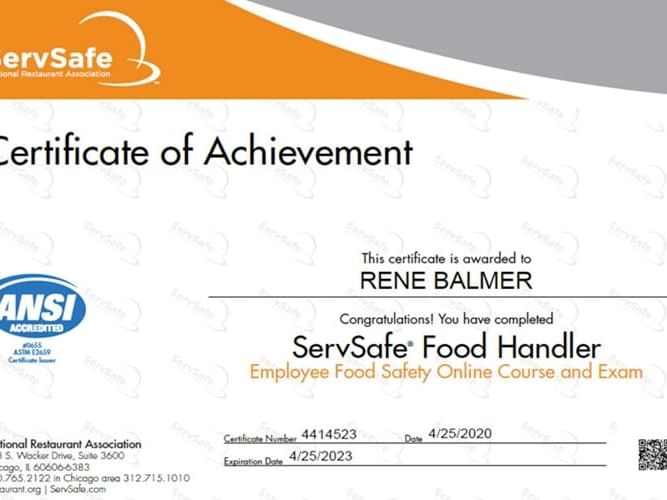 Chatrium Hotel Riverside Bangkok
Treat yourself to an unforgettable experience when staying at Chatrium Hotel Riverside Bangkok. The hotel offers languid luxury on the banks of the Chao Phraya River.
We stayed for two nights and upgraded to a river view room and well worth the upgrade of 600bht per night.

We stayed for two nights and upgraded to a river view room and well worth the upgrade of 600bht per night with views over looking the river.
We used the hotel barge which was free to get further into Bangkok.
The staff were very friendly and helpful and nothing was to much bother for them.
The hotel is very well maintained and the breakfasts are all you can eat.
Great hotel!

Excellent hotel with reasonable price. This was our second time and we'll definitely come back here. This time we traveled with kids and they were very welcomed. The riverside is just the best location with imaging views.
3 nights in Bangkok

We spent 3 nights at this fabulous new riverside hotel. Very good location on the river which served as our primært transport Channel for the main touristic sites. We visited the Asiatique market very close to the hotel, Well worth the trip if you want to shop in a more relaxed and less noisy setting, however with an above average Price range.