Snake Farm (Queen Saovabha Memorial Institute)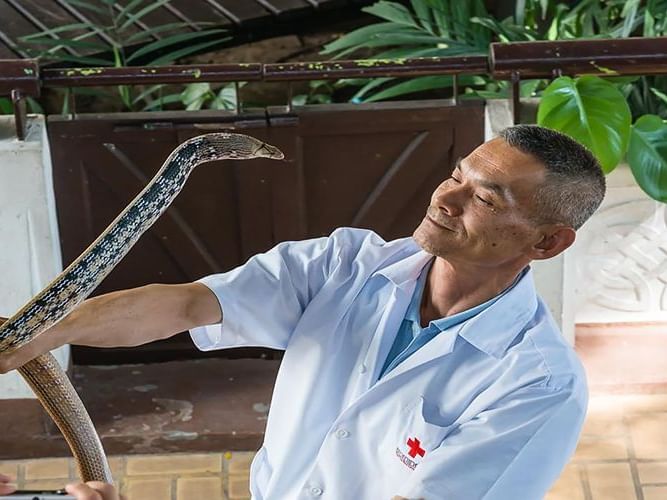 Snakes are some of the most misunderstood creatures on the planet and you can understand why with a visit to the Snake Farm situated at the Queen Saovabha Memorial Institute, also known as the Red Cross Institute.
The institute was founded during the early 1900s as a means to develop a rabies vaccine, due to the tragic passing of Prince Damrong's daughter due to a rabies infection. Upon opening, it was named the "Pastura Instituta" in honour of Louis Pasteur, who developed the first rabies vaccine. The Snake Farm opened in 1923 and was apparently only the second in the world after a similar institution in Sao Paolo, Brazil.
Although many varieties of snakes can be poisonous, through a visit to the institute you can also discover how there's an equal amount of species that can be a blessing. If you wish to learn about snakes then the best times to visit the institute would be around 02:30pm on weekdays and 11:00am on weekends. This is when you can attend the talks conducted by the resident experts. These veterans are not only knowledgeable but passionate about the reptiles they study.
1871 Rama IV Road 10330 Krung Thep Maha Nakhon Thailand
Monday09:30 - 15:30
Tuesday09:30 - 15:30
Wednesday09:30 - 15:30
Thursday09:30 - 15:30
Friday09:30 - 15:30
Saturday09:30 - 13:00
Sunday09:30 - 13:00