Take a culinary voyage to the Mediterranean with our new Executive Chef Joan at Albricias Restaurant Chatrium Residence Sathon Bangkok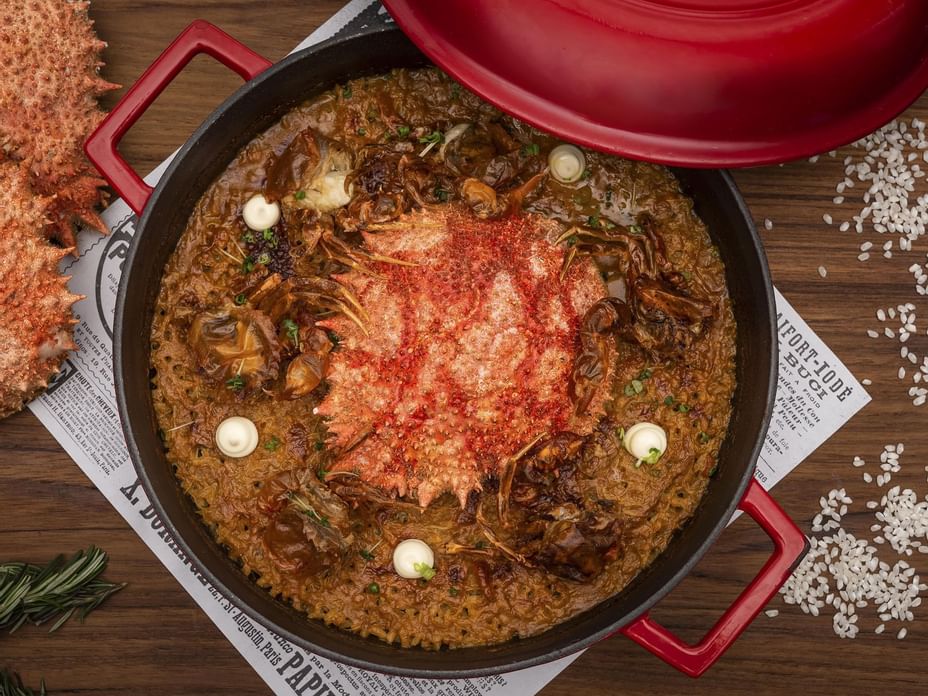 Albricias Restaurant, Chatrium Residence Sathon Bangkok's Mediterranean Restaurant, is excited to reveal that Mr. Joan Tana Dot is joining us and will be bringing his own distinctive and original style of cooking as the restaurant's new Executive Chef.
Chef Joan has a wide range of experience in the industry, which includes setting up new restaurants, building strong branding and restaurant concepts, menu engineering and design, and he has worked in the following 1-3 Michelin star restaurants:
One Michelin Star Hofmann cooking school in Barcelona, Spain
El Dorado petit, One Michelin Star restaurant in St. Feliu de Guixols, Spain
Stage de cuisine at Claridge's, Gordon Ramsay, Three Michelin Stars. London, UK
Multiple collaborations with One-star Michelin chefs – Chef Charles Gaig, Chef Miguel Cobo, Chef Toni Gonzalez, Chef Roberto Terradillos and Chef Nandu Jubany
Chef Joan, a native of Spain, is a holder of the Master Chef Diploma from Escola Ballart in Barcelona and has nearly twenty years of culinary experience and expertise, traveling the world to such diverse locations as Catalonia in Spain, the UK and the Cayman Islands. His previous position prior to joining Chatrium Residence Sathon Bangkok was as the Chef de Cuisine and Manager in a prestigious hotel restaurant in Bangkok.
His very individual cooking style was inspired by his ancestors, whose ideas and techniques he took and then mixed it with his own unique style. The result is perfect Mediterranean cuisine. The produce used is, of course, always the very best. It's fresh,
whether from the garden or the sea. The one dish that he recommends everybody should try is his very own Spanish Paella rice, a dish he is very proud to present to diners as it can hardly ever be found in Thailand.
Along with Paella, Chef Joan's signature dishes includes Tapas: (1) Torched Shimesaba Mackerel with Aji Verde, Avocado, Yuzu Gel, Chives Oil and (2) Wagyu Beef Steak Tartare with Green Apple Sorbet. Main Dishes: (1) Black Inked Atlantic Snow Fish Chipotle with Adobo Spicy Sauce and Mashed Potatos, Sautéed Bimi and (2) Cochinillo Lechal with Crispy and Tender Half Suckling Pig, Apple And Fennel Salad, Nam Jim Jaew, Demi Glace and Smoked Tomato Chipotle Sauces (3) Seasonal Paella with Spanish Bomba Rice and Seasonal Chef Selected Ingredients. Dessert: (1) A La Minute Baked Apple Tart with Calvados Flambé, Rum and Raisin Ice Cream and (2) Basque Country Creamy Cheesecake Quince Paste with Apple Gel and Yuzu.
Whatever you choose during your visit, it is certain your taste buds will be ecstatic, and you will leave more than satisfied with the experience.
What thrills him the most is getting up close and personal with his guests, and he loves to satisfy their gastronomic cravings by cooking beside the customer's table with equipment and ingredients right beside him on the trolley.
For Chef Joan, cooking is about creating special moments with food that can be shared among friends, family or colleagues, and he is particularly fond of serving plates suitable for 2 to 4 diners. For him, dining is about bringing people together and having fun.
About Albricias Restaurant
Albricias brings a new and thrilling concept to Sathon; namely refined Mediterranean cuisine in Bangkok in a relaxed and casual setting that can be enjoyed by all. A wide range of ever-changing creative dishes are offered, highlighting premium and seasonal ingredients by Executive Spanish Chef Joan Tana Dot.
Some menu items are prepared directly in front of the guests, delivering a sense of theatre to the dining experience. To make your dining even more special, there is also an extensive Mediterranean drinks list specially selected to perfectly pair with our menu and begin your voyage of the senses at Albricias Restaurant. An A la carte Mediterranean menu is available every day for dinner from 6.00 – 10.00 pm.
For further information and reservations, please Tel +66 (0) 2672 0200 or email: info.crst@chatrium.com visit www.chatrium.com