Wat Ratchanatdaram Woravihara (Loha Prasat)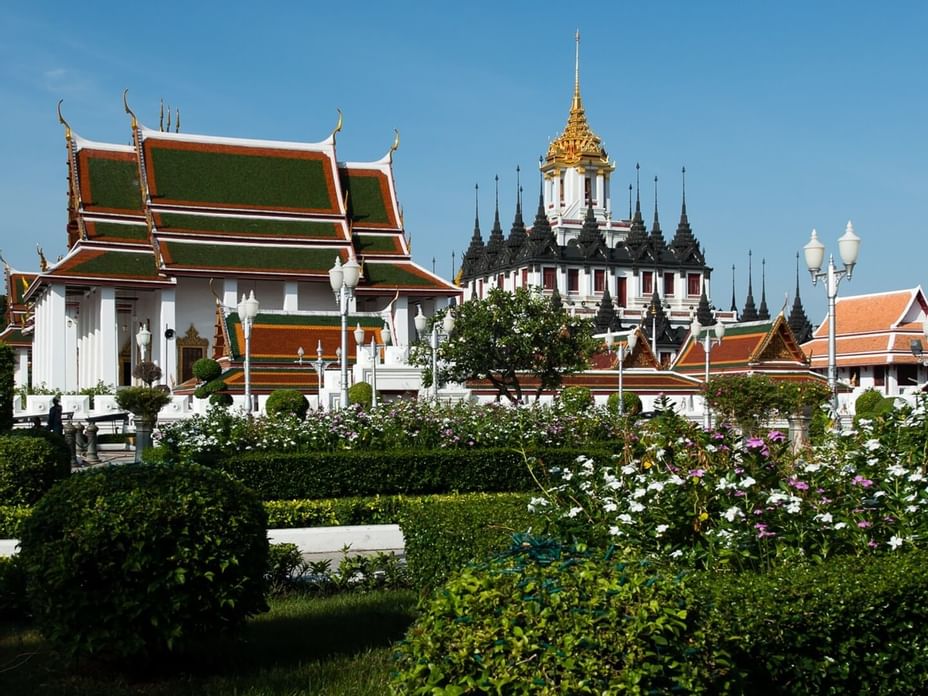 Located on the grounds of Wat Ratchanatdaram, Loha Prasat is also known as the "metal castle". It was built in 1846 under the patronage of King Rama III and inspired by two other similar temples in India and Sri Lanka.
Loha Prasat Temple is a 36 metre high construction featuring 37 spires made of metal which symbolize the 37 virtues leading to enlightenment. At its highest level of this site is a relic of the Buddha. Loha Prasat is the only temple of multi-floored and square-based construction that is in existence today. Loha Prasat is a term from Indian origin referring to a square based structure with multiple storeys which was used as a monk's quarters; only three such structures are known to have been built and the only one standing to date is the one in Bangkok.
For a small entry fee, you could explore this great work of architecture. The temple which went through a restoration process has a rich history which is evident as you walk in between the pillars that create fascinating alleyways.
Due to its uniqueness, Loha Prasat was submitted to UNESCO to be considered as a World Heritage Site. While the temple has yet to be bestowed with that title, it nevertheless is one of the most outstanding pieces of architecture and has its own noteworthy place in the Bangkok cityscape.
2 Maha Chai Road 10200 Krung Thep Maha Nakhon Thailand