CHATRIUM PROMISE: HEALTH AND SAFETY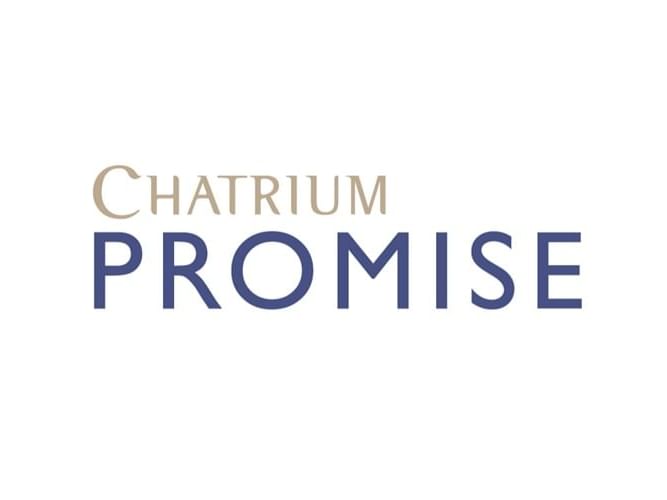 Chatrium Quality Assurance team is committed to providing a safe environment for our guests and has been working tirelessly to elevate the health and safety standards to meet the new challenges presented because of the current environment. Our inhouse experts are collaborating with industry hygiene specialists and adhering to both local and global guidelines to ensure a safe and hygienic environment for our returning guests and staff alike. 
Implementation of Chatrium Promise, our very own health & safety program and collaboration with Ecolab, our partner in hygienics, we have enhanced the core hygiene standards.
 
"Chatrium Promise" Enhanced core hygiene standards
Our staff are required to regularly and systematically:
-  Clean and disinfect all areas of the hotel, giving special care to high touch-point areas such as door handles, reception desks and elevator buttons.
- All guest rooms are thoroughly cleaned and sanitised with meticulous attention, using certified disinfectant and sanitiser products by Ecolab.
- Our housekeepers are equipped with electrostatic spray to minimize the risk of viruses and bacteria in the guestrooms and common areas.
To ensure our guests have good night's sleep:
- Our bed linen and laundry are washed at a high temperature with Oxy Brite. Once washed and dried, our laundry experts use UV light to sterilize the clean laundry overnight. Our laundry trolleys are also sanitized after every use to prevent cross contamination during delivery.
Our restaurants, bars, fitness centres and in-house activities operate as follows:
-  Social distancing guidelines. Fitness centres and in-house activities will operate at a limited capacity, providing a comfortable space for each guest. All buffets will be replaced with an a la carte buffet service while maintaining an extensive selection.
- Guest seating at restaurants, bars, meeting rooms and banquets are required to have a minimum of 1.5 m between each seated group of guests traveling together. All equipment, tables and chairs are cleaned before and after usage.
- Chatrium's certified food suppliers are regularly inspected by our head chefs to ensure food is safely sourced, processed and delivered. Since COVID-19, our team has included an extra inspection to ensure our suppliers are knowledgeable and equipped for the 'new normal'.
- Our food handlers are certified by the ServSafe food and alcohol training program. The program is accredited by the American National Standards Institute (ANSI), Conference for Food Protection (CFP) and is a HACAP certified operation.
Additionally, Chatrium's employees are required to follow strict personal hygiene procedures:
- Daily temperature checks, wearing the correct PPE gear, routine hand washing and disinfecting of workstations. All equipment, including phones and keys, are disinfected at the start and end of each shift or when transferred between staff.
- Our properties are internally audited by our corporate Quality Assurance division and externally audit by Ecolab, a Fortune 500 company specialising in hygiene in the hospitality field. These audits are then comprehensively reviewed by Chatrium's senior management to ensure stringent standards are maintained.
 
Book with confidence
Given the changing market conditions, we are committed to ensuring our guests have complete flexibility during these challenging times, and with all our hotels following the Chatrium Promise program, you can book with absolute confidence that your stay at Chatrium will be a remarkable one.
 
At Chatrium your health and safety comes first. As Rene Balmer, Group General Manager, says, "Your well-being and that of our team members is our number one priority. With our Chatrium Promise program in place our employees and guests are assured of a safe visit where you can truly Feel The Remarkable!"