IT'S SNOW TIME IN NISEKO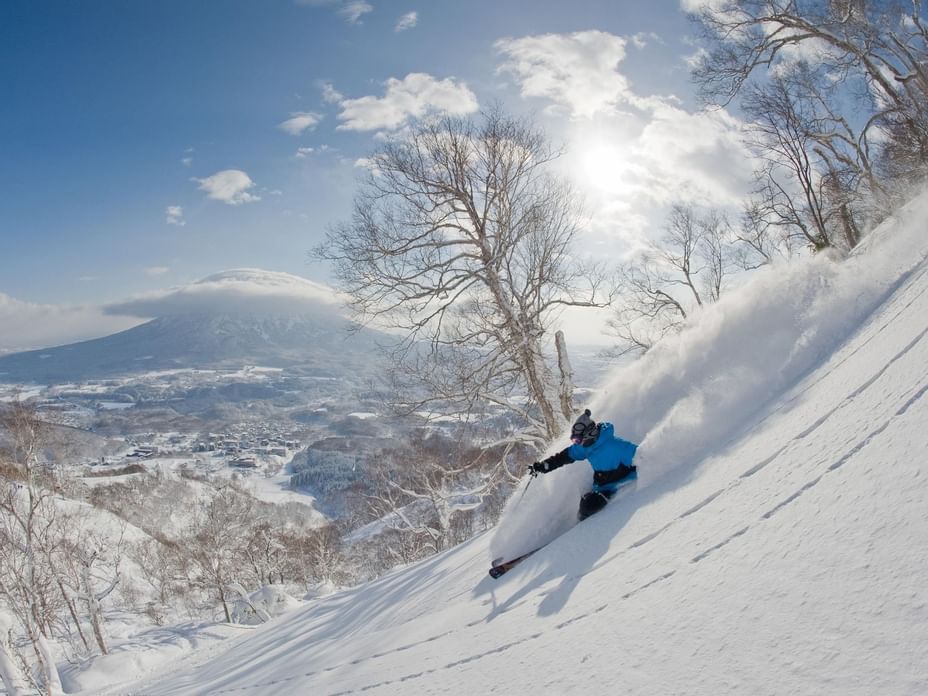 Niseko is truly one of the best places to visit in Japan if you want to see the very best scenery and take part in the most fun activities, and December is when everybody gets really excited because of one thing - SNOW.
When the snow finally arrives both locals and visitors alike are thrilled to be out in the snow doing all kinds of things, from making a snowman or having a snowball fight to skiing and snowboarding.
So, what are the best winter activities in Niseko?
Even though skiing and snowboarding are the most popular and obvious choices, there are a multitude of other things to enjoy too – check out a few of them below.
Skiing and Snowboarding
Niseko is known as one of Japan's top ski and snowboard resorts due to both the quantity and type of powder snow you find there and is quickly becoming one of the most popular winter destinations in the whole world, and with very good reason.
With a wide variety of skiing and snowboarding options to choose from, Niseko caters for all levels and ages from novice to expert. Skiing in Niseko is an exhilarating experience, and after skiing here many people never want to go anywhere else.
Snowmobiling
If you like adrenalin-fuelled action but like to get around with some motorized assistance, then try snowmobiling.
Snowmobiling in Niseko is a must-do experience and makes a great change if you take a day off the slopes. It really is a top adventure for those looking for something a bit different.
There are a wide selection of trips on offer, from a scenic ride through the picturesque forest or a daring and speedy tour through deep snow and hills.
Snow Rafting and Snow Tubing
A newer and increasingly popular winter sport for all. Basically a snowmobile tows you around a course while you are sitting in a rubber raft. There are fast or slower tows available, meaning this activity is fantastic fun for all types of people, from thrill seekers to families.
Snow Shoeing
With sensational scenery all around you in every direction, Niseko is the perfect setting for some snow shoeing and discovering the great countryside that Niseko has in abundance.
Visitors can get away from the crowds and ramble wherever they desire and witness the most magnificent sights such as snow-covered forests and ice-covered lakes. It's a very relaxing and environmentally friendly way to get into the very heart of the landscape and explore the local nature at its finest.
Winter BBQ
Although BBQ (Yakiniku) is usually associated with being a summer activity, there is something enchanting about having a winter BBQ too. In fact, there are few things locals love more than getting outside in the snow and cooking a tasty selection of meats and vegetables over a hot coal grill and barbecuing Japanese style. If you are in Niseko during winter, make sure you add this yummy experience onto your list of things to do.
Onsen
After a day of fun outdoor activities, there is nothing better than visiting an onsen. Niseko has various types of onsen facilities, from upmarket hotels to more casual spas.
The onsen in Niseko are all naturally occurring volcanic hot springs, and the minerals within them are believed to be good for the body. They make a rewarding and soothing end to a long day out in the snow.
Festive Activities
Of course, if you visit Niseko during the festive season you are in for an extra-special treat. Not only will you have access to the usual winter activities, but you'll also get to experience the Christmas fireworks, New Year countdown and other merry events that are sure to make everyone smile with joy.
Get the best winter deals from Chatrium
We hope you will get the chance to visit Niseko soon and enjoy all the entertaining winter activities and events available at this special time of the year. If you are coming to Niseko in winter, make sure you get the best deals and offers in town direct from Chatrium Niseko, which is located in the very heart of Hirafu Village, just steps away from the best slopes, restaurants and bars in town. Our special direct deals are perfect for the savvy visitor, and our excellent rates mean you will have more money left over to book even more exciting activities during your visit to this winter wonderland. View our special offers at https://www.chatrium.com/chatriumniseko/offers
Chatrium Niseko is located at Shiki Niseko, 190-4 Aza Yamada Kutchan-Cho, Abuta-gun, Hokkaido, Japan. For more information please call Chatrium Niseko Japan on +81 (0)136 21 4191, or visit www.chatrium.com/chatriumniseko