Top Niseko activities for September – BBQ, Hiking & Horse riding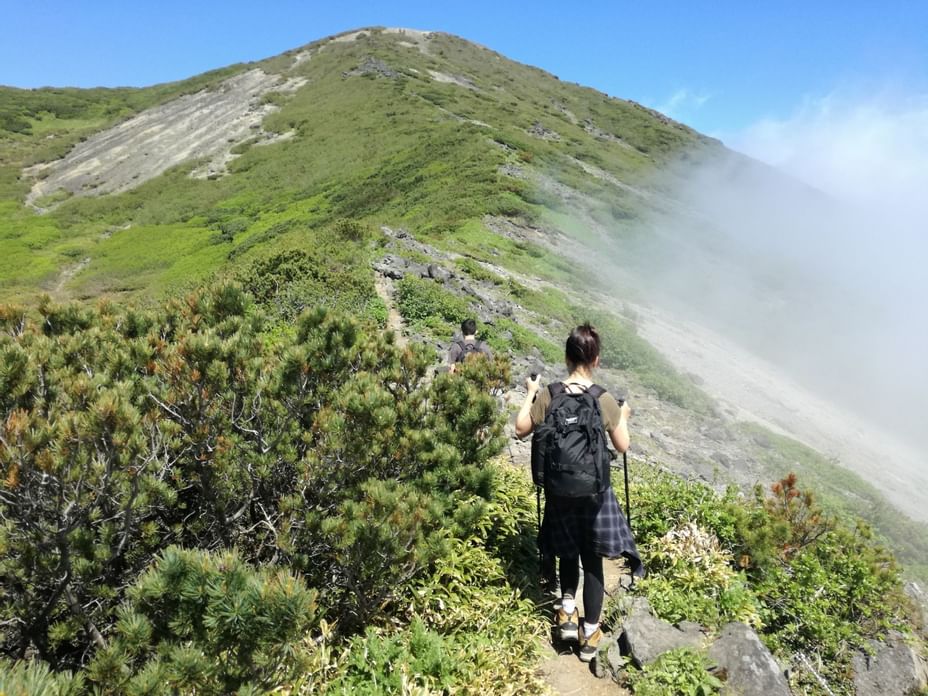 There are lots of fab things to do in Niseko, but BBQ, hiking and horse riding are definitely 3 the adventurous traveller should try while they are here.
Enjoying the tastes of Hokkaido with loved ones is an unbeatable experience, and Niseko is most certainly the place to try the most amazing BBQ.
'Ghengis Khan', or local BBQ, is a specialty of Hokkaido, and is usually made with lamb and special spices. During the green season, you will find Ghengis Khan absolutely everywhere, so if you are lucky enough to be in Niseko at this time, make sure you have Ghengis Khan as a special culinary treat.
You can sample Ghengis Khan at a restaurant, but in Niseko you can also have a catered Ghengis Khan outdoors. A Ghengis Khan catering services company will set up the grill, bring the meat, food, and utensils, and even clean everything up for you after the meal. So, whatever delicious food you try when you visit, you have to definitely make sure that a Ghengis Khan BBQ is at the top of your dining list.
After refuelling with a BBQ, it's a good idea to burn off some calories with hike or climb in the beautiful scenery of Niseko. From simple rambles on easy paths to a full-on Mount Yotei climb, there are a multitude of hikes and walks to suit all levels and abilities.
During the green season, lots of visitors come to Niseko just to hike around the 2 most stunning mountains, namely Mt. Annupuri and Mt. Yotei. There are a few trails to get to the top of Mt. Annupuri, and they are all relatively easy. Once at the top, you can also take the summer gondola back down again for an easier ride back to town.
Mt. Yotei is one of Japan's top mountains and a more serious climb. There are three main trails to get to the top, and it's about a 5-hour climb to get there. It's definitely worth the effort though, as during summer the views are sensational and the seasonal flowers are all in full bloom, perfect for some great snapshots. If you do decide to climb Mt. Yotei, make sure you consult an expert before you head off, and don't forget to take plenty of water with you.
For a slightly more leisurely time, there are a lot of paths and trails suitable for gentle hiking and walking in Niseko, such as around Hangetsu Lake and Shinsen Numa pond. Increasingly many visitors also like to use these tracks for trail running. The natural beauty all around the area makes it ideal for getting your daily jog surrounded by the most perfect vistas.
Alternatively, for those out there who want to try something a little bit different, but no less thrilling, horse riding provides a fantastic opportunity to get out and about and enjoy the stunning landscape on an unforgettable guided riding tour on the peaceful trails surrounding Niseko. And it doesn't matter if you are not an expert rider, as there are many different levels to choose from, even if you are a complete beginner.
Riding a horse out in the fresh air is really something to experience during the green season, and you can just take a short ride near the stables or a much longer trek through the Niseko hills. Whichever you choose to do, you will certainly see the outdoors from a different angle and get some unbelievable photos to treasure forever.
Get the best deals on bookings
With incredible activities such as these to do in Niseko in the summer and autumn, travellers are sometimes amazed to discover how great the deals are at this time of year. With the snow season weeks away the pricing on accommodation gets even better for the savvy Niseko visitor, and this means you can get the best value accommodation and also have more money left over to spend on booking more fun and exhilarating activities during your stay. There are also smaller crowds in the warmer months, making Niseko and the surrounding district feel much more comfortable and relaxing.
So, with great value, a more laid-back ambiance and great activities to try, Niseko is much more than just a ski resort – it's a green season paradise too.
Make your trip to Niseko even more remarkable at Chatrium Niseko, located in the very heart of Hirafu Village, just steps away from the best slopes, restaurants and bars in town.
Chatrium Niseko is located at Shiki Niseko, 190-4 Aza Yamada Kutchan-Cho, Abuta-gun, Hokkaido, Japan. For more information please call Chatrium Niseko Japan on +81 (0)136 21 4191, or visit www.chatrium.com/chatriumniseko