CHATRIUM HOTEL ROYAL LAKE YANGON CROWNED AT THE WORLD TRAVEL AWARDS 2021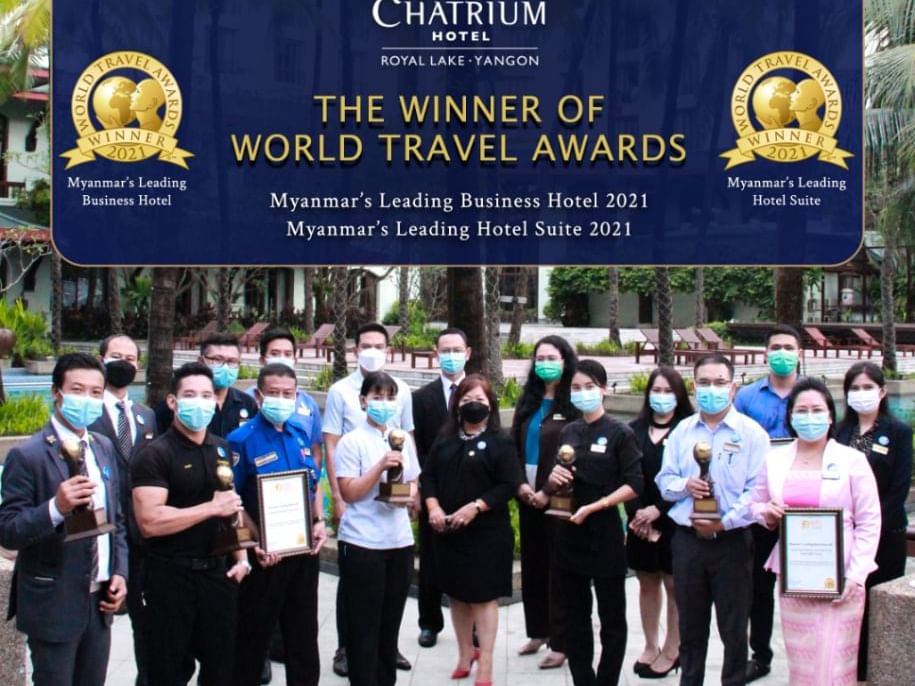 At the 28th Annual World Travel Awards, Chatrium Hotel Royal Lake Yangon was crowned Myanmar's Leading Business Hotel 2021 and Myanmar's Leading Hotel Suite 2021. This is an exceptionally gratifying moment for the entire team and General Manager, Ms. May Myat Mon Win at Chatrium Hotel Royal Lake Yangon, as these prestigious awards are voted by independent travelers from all around the world.
The World Travel Awards is the world's largest travel excellence guarantee award and the ultimate hallmark of industry quality. Chatrium Hotel Royal Lake Yangon has been awarded the World Travel Award as Myanmar's Leading Hotel in 2016, 2017 & 2019 and Myanmar's Leading Business Hotel in 2015 to 2017, 2020 and now in 2021. In addition, the Royal Lake Suite has been awarded Myanmar's Leading Hotel Suite for seven consecutive years since 2015. This is evidence of our excellence in providing unique services to our clients following our motto: "Feel the Remarkable".
With this award, Chatrium Hotels would like to express our heartfelt appreciation towards both our international and local guests who have consistently supported us during this challenging period. Chatrium Hotels would also like to celebrate our Chatrium family team members who have delivered leading services to guests, especially during these difficult times within the hospitality and tourism industry. Following our 'Chatrium Promise' health and safety protocols has enabled us to continually deliver remarkable quality services at every stage of the patron journey, and visitors can stay with absolute confidence that they will experience a safe and memorable visit.