THE FUTURE IS HERE! LET ME INTRODUCE YOU TO THE CHATRIUM APP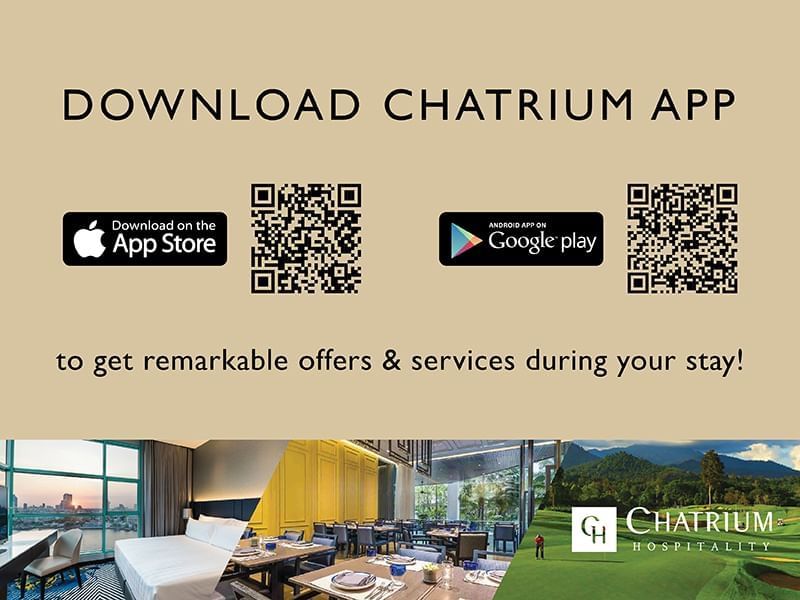 With smartphones ingrained in our daily life, our team decided it is no longer sufficient to be a call away but to be a touch or a text away from our guests. We proudly introduce the Chatrium App to the Chatrium family.
Our new app combined all things Chatrium into one location where guests can chat, eat, request, shop, and explore at the touch of your fingertips. Chatrium App is ready the moment you start your journey with our Pre-Arrival Request function. You can pick and choose your excursions, reserve a limousine or a couple's spa treatment for the exact moment you arrive. We even include special packages for every special occasion ensuring you 'feel the remarkable' every moment of your trip.
Not only does the Chatrium App give you more flexibility in making your requests, but it also enables you to personalise your experience. The App comes in six different languages with an automated translator to ensure you can communicate in your preferred language. Don't believe me, send us a text.
The whole system is more efficient and gives you access to unique offers in and around your destination while giving you access to our customary services like a turndown request or an additional goose down pillow that will make your stay truly special.
So, it's time to forget the disconnected travel of the past; download the new Chatrium App today, and enter a new world of effortless business or leisure travel, enabling you to concentrate on whatever is important to you.
Download the new Chatrium App: http://onelink.to/hxj7p4
For more information, please call +66 (0) 2307 8888