Chef Jerome Bondaz presents the finest and freshest produce at Casia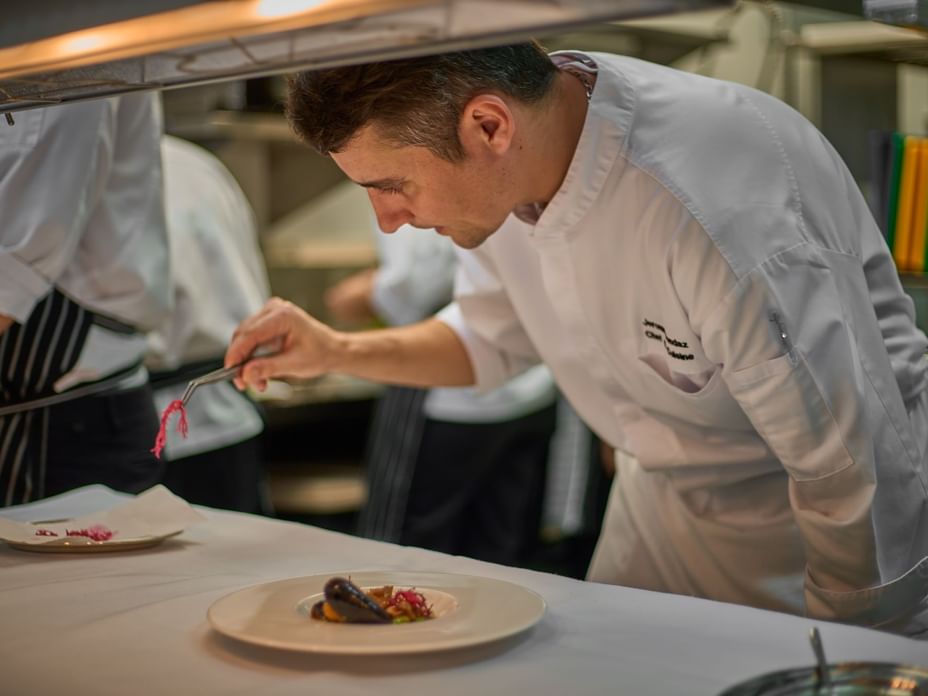 Chatrium Grand Bangkok, which blends the timeless grace of Thai culture with the grandeur of international luxury hospitality, is preparing to unveil Casia, the new fine-dining destination that will present "French Finesse in the Heart of Siam" and is set to become one of the Thai capital's most prestigious places to dine.
This signature French-Mediterranean restaurant will be led by Chef de Cuisine Jerome Bondaz, an award-winning culinary expert whose stellar career has spanned many Michelin-starred venues in Europe and Asia, including the acclaimed Le Louis XV – Alain Ducasse at l'Hotel de Paris. With his passion for using fresh ingredients and elevating classical flavours with contemporary cooking techniques, Chef Jerome is ready to transport diners on a gastronomic journey to southern France and the Mediterranean coast.
Ever since Chef Jerome arrived at Chatrium Grand Bangkok, he has been striving to find the best local suppliers and importers to source the finest ingredients for Casia. By working closely with sustainable farms, organic orchards and small-scale fisheries, he has been able to craft a selection of delectable dishes celebrate the very best of Thailand, perfectly paired with premium products that can only be imported directly from their original source, in France or southern Europe.
Casia's menus will change with the seasons and tell a story of that time of year. Alongside the main à la carte offering, a series of tasting menus and a splash of culinary theatre will allow diners to embark on multi-sensory adventures. Casia will also stage a regular series of events, as Chef Jerome collaborates with specialty suppliers, guest chefs and leading wine experts.
"My culinary influences come from many different places. When I was growing up I would shuck oysters with my father. This started my love of fresh produce and especially seafood. Since then, I have been fortunate to work with some of the world's best chefs, including Santi Santamaria, with whom I worked very closely during my spell as head chef at Can Fabes, the famous Barcelona restaurant that held two Michelin stars," said Chef Jerome.
"In more recent years, my cuisine has been inspired by my global travels. I have been lucky to work in Asia and South America, which introduced me to many exciting and exotic new ingredients and expanded my knowledge. All of these influences, from the Michelin-starred restaurants of southern Europe to the vibrant markets of Asia, will be represented in the menus at Casia, which will change with the seasons," he added.
Bright and inviting, Casia is an elegant restaurant that reflects the refined and vibrant spirit of the Mediterranean coast. While the ambience is stylish and sophisticated, it is still friendly, relaxed and underpinned by warm Thai service.
Casia will be open for lunch (12.00-14.00 hrs) and dinner (18.00-22.00 hrs), which makes it perfect for many different occasions, from business lunches that are sure to impress partners and clients, to memorable family meals and couples' evenings. For life's important occasions and events, a semi-private dining space can cater for groups.
For more information about Casia and to experience this new era of fine-dining in the heart of Siam at Chatrium Grand Bangkok, please visit www.chatrium.com/grandbangkok/dining/casia.